Underwater Model Photography Workshop
Discover a whole new world of photography with our underwater model photography workshop.
Do you want to take your photography skills to the next level and take extraordinary pictures? Our workshop in collaboration with Lichtfang Weimar offers you a unique experience in underwater photography. We offer you the highest level of professionalism and expertise to guide you through this unique world.
Imagine being able to add stunning, unique images to your portfolio that leave a lasting impression. Our underwater model photo workshop gives you the tools and skills to make this a reality.
Don't miss out on this exclusive opportunity to learn from the best and discover a new dimension of photography. Sign up for our underwater model photo workshop today!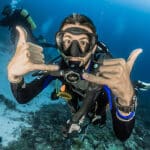 "Wow! The diving experience in Bali was absolutely breathtaking, transporting me to a fascinating underwater world set against the backdrop of Bali with vibrant coral reefs and fascinating marine life. The experienced instructors provided a safe and memorable adventure that is a must for dive enthusiasts."
– John D.