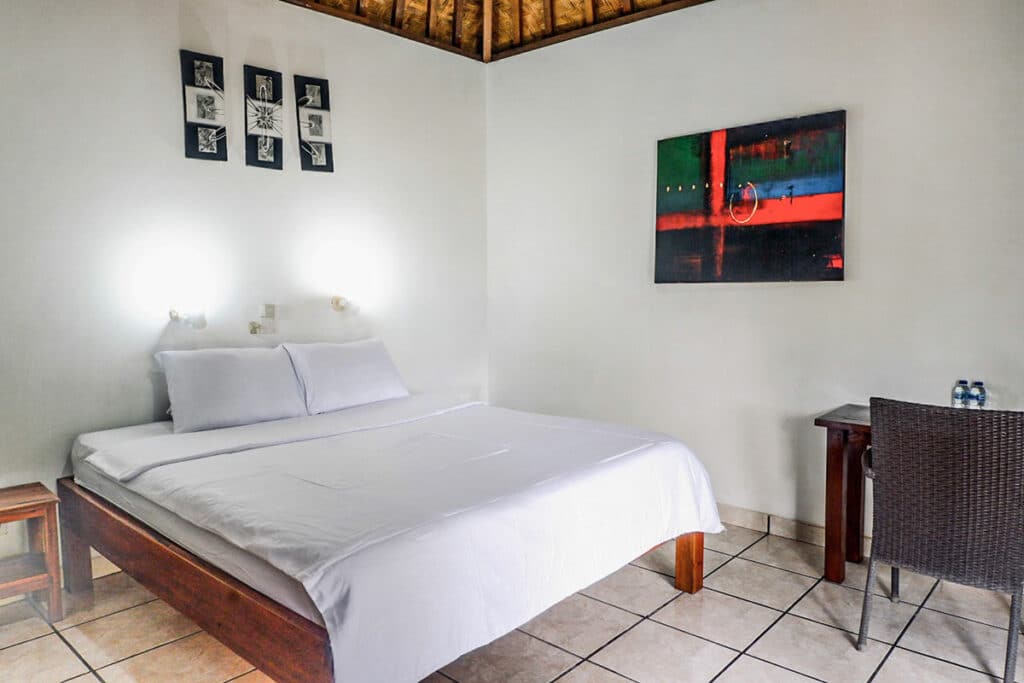 The Ocean Sun Homestay is the ideal accommodation for guests who want to stay close to the popular Ocean Sun Dive Resort. Located just two minutes from the resort, the guest house has four identical bungalows. The bungalows of the Ocean Sun Homestay are smaller than those of the Ocean Sun Dive Resort, which makes them less expensive. As such, they are an attractive option for guests looking for affordable accommodation. Furthermore, the manageable size of the facility makes it suitable for groups of up to eight people who prefer to remain private.
Every bungalow has a bedroom, a private bathroom, and a spacious terrace. The furnishings are practical and functional, with a king-size bed, a closet, and a small desk. The permanently installed reading lamps at the head of the bed allow you to read during the night. A room air conditioner can cool the room climate down to a comfortable level, even on very hot days. The bathroom is designed in a tropical semi-open plan and has a hot water connection in the shower area. Towels are available for you to utilize.
Located in the middle of the four bungalows, the small swimming pool of the Ocean Sun Homestay invites you to take a dip. With its exotic plants and lush greenery, the small tropical garden meets the expectations of an environment with a Balinese flair. The large terraces are surrounded by the lovingly landscaped gardens and create a pleasant atmosphere. There are two chairs at the existing table for cozy meetings, while the lounger is wide for relaxation.
As our guests at Ocean Sun Homestay, you are welcome to use our complimentary Wi-Fi. We provide unlimited Wi-Fi throughout the bungalow complex, so you are always up-to-date. Our restaurant, Slice & Brew, is located in proximity to the bungalows. In this restaurant, you will not only receive a rich and delicious breakfast, but you will also be able to choose from a large selection of refreshing cocktails. Afterward, you can enjoy them comfortably directly in your bungalow.