SSI Diving Training Center
The Ocean Sun Dive Resort has a professional SSI Diving Training Center which offers a broad variety of diving courses from beginners to experienved divers to professional divers. With our many years of experience and over 2500 completed diving courses, we can offer you high-quality training for all offered diving courses. Small groups or even private training make it possible to customize our coursres to your individual needs. So through this personalized care you'll learn diving according to your needs and your own pace. We are well-prepared to train you in the popular diving sport with a first-class service provided by "Scuba School International" and a diving area that offers a perfect environment for all training programs.
The diving center offers a professional service and is an ideal base for relaxing and safe diving in Bali. Due to our central location, many diving spots are easy to reach, which allows us to offer you an individual service. So you don't have to follow fixed diving schedule instead we will fulfill your needs and wishes. Dive where, when and how often as you like!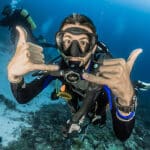 "Wow! The diving experience in Bali was absolutely breathtaking, transporting me to a fascinating underwater world set against the backdrop of Bali with vibrant coral reefs and fascinating marine life. The experienced instructors provided a safe and memorable adventure that is a must for dive enthusiasts."
– John D.