SSI Diving Instructor Career Package
Bring your passion for diving to the next level by turning it into a career! The SSI diving instructor career package will provide you with comprehensive training in the areas of dive management and diving education, which will allow you to enter the professional world of diving. All training contents can be perfectly compatible with each other, allowing us to optimize the entire training process and provide you with a superior learning experience. During the training program, you can also participate in the activities at our diving center to gain a deeper understanding of the learned concepts and acquire valuable experience. We will give you tips and information there to make sure you are ready to become a diving instructor. The Instructor Exam, which is administered by Scuba School International, is included in our training package. Upon successful completion of your training, passing the final exam is the last step to obtaining your certificate. The comprehensive training will ensure that you have the knowledge and skills you need to successfully pass the SSI evaluation. Upon passing the exam, you can start your career as ssi diving instructor.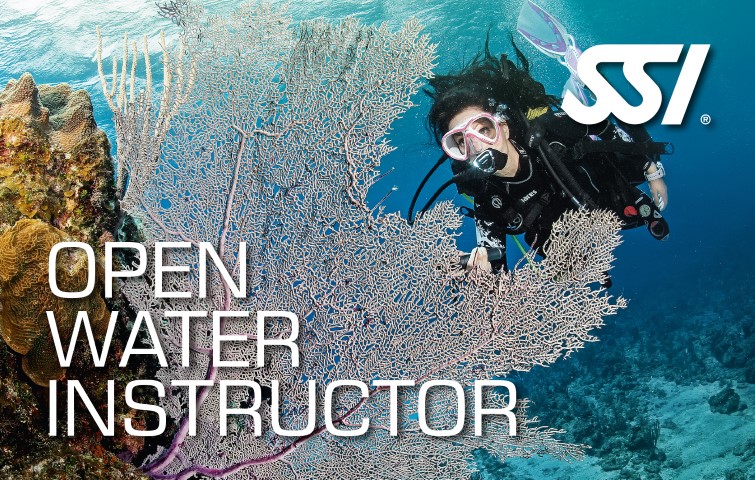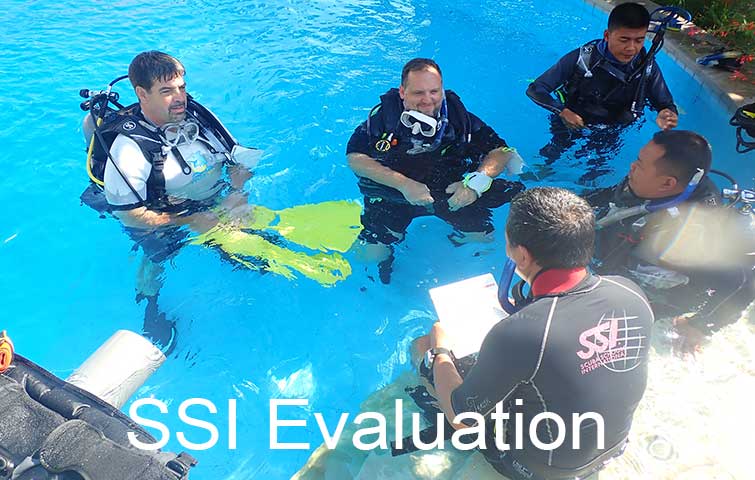 Dive into the world of science! With the "Science of Diving" Specialty Course we offer you a thorough introduction to the theory of diving. During the course you will learn all about physics, psychology, decompression theory, equipment and underwater environment and how these areas of knowledge affect diving. You will gain insights into different theories and contexts and thus expand your knowledge about diving. Within this 3-day program is not a single dive included, but it is a requirement to achieve SSI Dive Master certification.
For certified divers, a competent dive guide is the key to unique and safe underwater adventures. In this six-day program you will learn how to become such a dive guide. As part of this program, you will create a dive site map and then use it to plan and conduct dives. You will learn how to communicate this plan in a professional briefing. In the following dives we will simulate problems under water and teach you how to solve these problems during dives. You'll learn how to make the dive interesting and to provide your future guests an unforgettable diving experience. This certification can be your first step in your career as a dive pro with a professional registration. In combination with the Science of Diving Specialty you will receive the recognition level "SSI Dive Master".
As an Assistant Instructor, you will be able to independently conduct all theory and pool training for the beginner programs up to the Open Water course. So you can be a crucial help for the Open Water Scuba Instructor in the training. The certification is a prerequisite for participation in the Instructor Training Course. In our training we will simulate the different situations of a diver training and show you how to plan and conduct a successful pool or open water training and theory presentation.
We will train the basic skills of diving to perfection in order to be able to demonstrate them flawlessly later in real training. In theory, we will explain SSI's training and business philosophy and show you how to use it effectively in your work as an Assistant Instructor. With this certification you have the possibility to qualify as a training specialist and to be allowed to train selected specialties independently.
SSI Open Water Instructor certification is a crucial career step for dive professionals, allowing you to teach beginners how to dive and introduce them into the wonderful underwater world. The course builds on the comprehension of the Assistant Instructor course and perfects the skills and knowledge of theory presentations, pool and open water training. The training is therefore very similar to the Assistant Instructor Training. You will receive additional training for the specialties Nitrox, Stress&Rescue, Perfect Buoyancy as well as the Dive Guide Program and you will be allowed to train and certify these courses after successful completion. The final examination lasts two days and is conducted by SSI Indonesia. You must use the knowledge and skills you have acquired to prove that you can provide your future students a safe and high-class education. You will be allowed to train your first students right awaya after successful completion and begin your career as an instructor.
The final steps of the SSI Instructor Training course are the exam, which is administered by SSI Indonesia. The SSI Evaluation is the formal name of the exam and typically takes two days to complete. The SSI Evaluation is the crucial moment to prove that you have successfully learned the contents of the SSI Instructor Training. The time is now for you to demonstrate your acquired knowledge in flawless execution to the examiner and demonstrate that you are meeting the high standards of an SSI Instructor. Since our SSI Instructor Training Center has been granted the prestigious Diamond status, it is beneficial to us that our evaluations are held here at Ocean Sun Dive Resort. This gives you an advantage, as you would already be familiar with the training facilities, enabling us to provide you with the best possible preparation for the exam. Upon successful completion of the program, you will be issued a diving instructor certificate and will be able to introduce your first students to the captivating underwater world.
| | |
| --- | --- |
| Recommended duration | 30 days |
| Minimum age | 18 years |
| Maximum depth | 30 meters |
| minimum requirement | at least 60 dives |
| Price | 2890 Euro |
Our billing and reservation system is based on the Indonesian currency, the rupiah. All prices on our website are in euros to facilitate understanding. Additionally, we have installed a currency converter on all pages where prices are given. Due to exchange rate fluctuations, slight price differences may occur.